Search
results for

: Weight

We found 63 results matching your criteria:
Web Videos
https://www.feeltennis.net/racket-swing/ One of the most common problems in the game of tennis is that players don't use their whole body to hit strok...
Click Here For FREE Serve Video Course: https://www.ctwacademy.com/serve-course Learn about tennis equipment. The racquets and strings that will help ...
Tennis Warehouse helps you understand Swingweight, an important racquet spec that will help you select the best racquet for your game. We'll explain w...
Shaun shows an approach he takes with some juniors to develop supporting muscles that are used in forehand and backhand strokes. With the adjustment o...
Sessions

Improve the technical aspects of the backhand with this session, working on key areas such as their point of contact and reactions on court.

Get your players mastering their first and seconds serves while also working on their ability to return a speedy serve!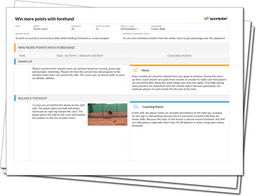 Develop your player's forehand into a powerful shot with this session, helping them gain the advantage!
Community Drills
Hit the ballFocus on form, footwork, weight moving forward and follow-through.
1 on 1 or 2 on 2 volley to volley practice. can also make it competitive and play first to 5 volleys only.- cont. grip- weight on balls of feet- racqu...
Each player will hit two shots; after first shot move around cone, after second shot move out and recover to back of other line.Emphasis on movement i...
Move back diagonally, hit FH crosscourt then run forward diagonally to the cone and back to the starting point; do the same hitting on the BH si...