Search
results for

: Organisation

We found 41 results matching your criteria:
Drills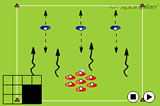 category: Decision-making
Groups of ten
One ball per group
Defenders equidistant, can only move forwards and backwards
Attackers bunched to start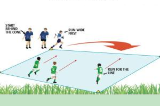 category: Tag-Rugby
The aim is that when the coach signals the start the defending players will spread across to the other side of the field quickly and defend the ent...

category: Defensive-Patterns
Drill to practice defensive organisation when the kicker must put their teammates onside.
Set up a grid roughly 30m long and 30m wide.
...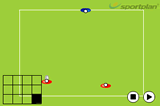 category: Decision-making
Groups of three
1 ball per group
Defender can choose any line as a start point.
On the word GO, 2 attackers attempt to sco...
Web Videos
Comment défendre collectivement face à l'ailier côté fermé et l'arrière qui viennent s'intercaler dans la ligne d'attaque et créer un surnombre offens...
Retrouvez des centaines de vidéos, des articles et pleins de documents gratuitement sur : ...
Séance d'entraînement dans l'hémisphère sud sur un enchaînement chandelle puis organisation d'un maul autour du porteur de balle. Ce type d'enchaineme...
Sessions
High tempo defending and handling plan. Improve your rugby players' communication, organisation and line speed for a more solid backline
Unlocked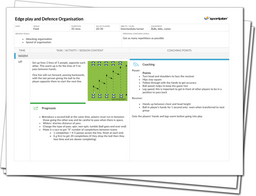 Get your defence organised with this session, making sure your players are communicating with one another
Unlocked
Improve your team's understanding and performance when defending at the ruck - teaching them to defend as an aggressive, loud and confident unit
Unlocked
Community Drills
DEVELOP HAND CATCH AND PASSING ACCURACY-DEFENSIVE ORGANISATION AND COMUNICATIONTWO HANDED TOUCH TACKLE MADE ON HIPS. DEFENDER DROPS DOWN TO ONE KNEE U...
Touch With Jokers Overview: This game is perfect for developing passing, running and decision making skills in a conditioned game situation. Organisat...
have a set guard 9 10hit the bags then shift round the corner then 3 on 3 make a good tackleearly organisation low tackle get off ...
Diamond Touch Support Drill- Offloadconverge in the gap -create the diamond -off load after tackle Support Drill- GateSupport from behind: Get &ldquo...