Search
results for

: 2 V 1

We found 37 results matching your criteria:
Drills

category: Decision-making
• The aim of the drill is to develop handling in a short space.

category: Decision-making
One attacking team and one defending team.
Exercise focused on decision making when in a 2 v 1 situation.
Each team lines up e...

category: Decision-making
Drill to improve short space and wide space overlap play.
Set up a grid 15m wide, split into a 5m channel and a 10m channel, and 10m long (se...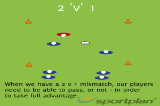 category: Passing
This is a simple 2 v 1.
The two players have to get past the one defender without being touched, that's it.
The defender wi...
Web Videos
Bristol ladies rugby demonstrate the basics of the 2 v 1: a fundamental skill in the game of rugby. With Bristol and Ireland internationals Claire Mol...
Community Drills
yellow player passes ball to middle player running on.Player passes through gate and challenges first defender. Offence must make contact.Second defen...