Search
results for

: carrying

We found 71 results matching your criteria:
Web Videos
In these drills Ryde Hockey Club High Performance Director Larry McIntosh runs some simple drills to develop the ability to shift direction while carr...
In the first of our new series of coaching videos, Ryde High Performance Coaching Adviser Larry McIntosh covers the importance of the ball carry posit...
Sessions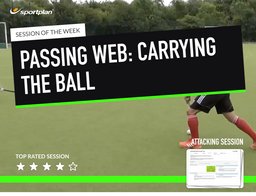 Carry the ball in the right position to be able to pass in all directions or to eliminate either way. Develop players technique and decision making on...
Unlocked
Give everyone on the team the confidence to take the ball under pressure, beat a player with their 1-on-1 skills, then move it on.
Unlocked
Passing prowess session - get your players passing with confidence, from left to right and right to left!
Unlocked
6 drills and games designed to improve your players' on the ball confidence and improve their passing and dribbling decision making skills
Unlocked
Community Drills
Player with the ball on the left starts with a fast run carrying the ball to the cone and always facing forwards all the time then checks back draggin...