Passing Web: Pre-scan and Receiving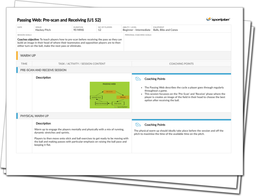 The best players always seem to have so much time on the ball and that's because they create the time for themselves by pre-scanning to get a clear picture of the play in front of them so they can carry to space or pass early before pressure arrives. Get your players pre-scanning in this session so they have an idea of what to do before the ball arrives.
What's in the Session?
After ensuring your players are warm and ready for the session both mentally and physically, the session starts with a practice that encourages the players to adopt the best body position to firstly adopt the best body position off the ball and create an understanding with their fellow players in order to keep possession amongst 'Chaos'. The session progresses with an 'Escape the Box' practice which forces the players to pre-scan to understand where the pressure is coming from and identify the gaps that they can escape from when receiving a pass. Finally, finish the session with a modified game to put the pre-scanning skills learnt in the session into a game-specific scenario. The session continually provides key coaching points to encourage immediate vision when the player receives the ball.
Give your players the ability to create time for themselves on the field. Pre-scan before the ball arrives and identify the space and passes ahead to consolidate possession and create defence splitting passes.