Goal Scoring Opportunities - Sweep to back post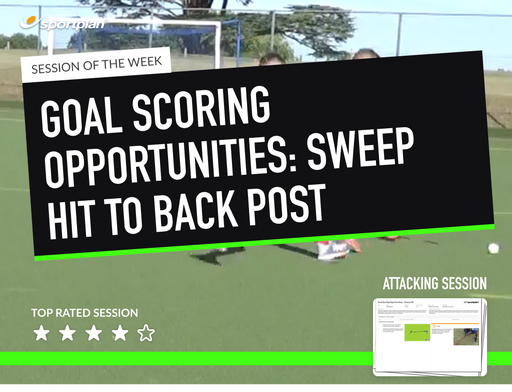 With a lot of teams you'll often find that when faced with the chance to score, players will wind up and try to hit the ball as hard as possible at the goal, usually resulting in the ball being knicked from them. Therefore this session looks are getting a quicker shot off and getting to the back post to widen the goal and offer an extra pass.
What's in the Session?
After a dynamic warm up which engaged players bodies and minds for the session, the technical section encourages players to utilise the sweep to deliver the ball to the back post where a teammate is to deflect it into the goal. The session illustrates how rather than looking for the perfect shot at goal, actually delivering the ball for a teammate is quicker and some times more effective. Therefore, work hard on getting your players into the mindset of getting to the back post as well as those on the ball to look for a quick shot to the far post, rather than a perfect hit straight at goal.
Get your players to recognise the benefits of get the ball away, low at the far post and begin to see the goals flow!