Passing Web: Post-scanning to Create Space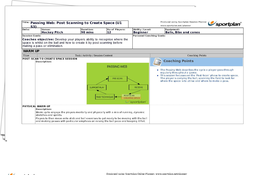 NEW CONTENT Continue your way through the Passing Web, this week working on Pre-Scanning!
Develop your players ability to recognise where the space is whilst on the ball and how to create it by post-scanning before making a pass or elimination.
There is a big difference between carry to pass and carrying to eliminate. This session explains exactly why carrying the ball is a vital part of the Passing Web and shows how you can get your players to be comfortable on the ball to develop a competent passing game.
What's in the Session?
On completing a full physical warm up, the session develops the players movement on the ball in tight areas. To be able to maintain possession and carry to space in tight areas is massively important to being able to complete a pass. The next practice emphasises having your eyes up and scanning for the next pass, working through the components which make this effective:Posture, Scanning and Trapping. The technical part of the session continues to work on scanning whilst on the ball with a practice that sees the player receive the ball to then escape into space. To finish the session, the modified game works the players understanding of carrying to space to create a pass and creates a mind set to not carry straight into contact.
Carrying the ball to space to create an angle for a pass is a skill used by the best passers in the game. Receive the ball, turn and carry away from danger to make the next pass with this section of the Passing Web Series!