Search
results for

: Ladder Drill

We found 14 results matching your criteria:
Web Videos
Speed, Agility, and Vertical Leap Training for Volleyball is offered at Suwanee Sports Academy by Performance Training Inc. The sports performance coa...
... Volleyball players have to be strong and powerful with the ability to react and change direction quickly to be successful on ...
ASICS Fitness Expert Michelle Lovitt offers another beneficial workout for Volleyball players: the Foot Ladder Drill. Every player can use a boost to ...
Community Drills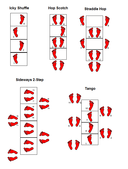 LadderIcky Shuffle: Quick run, 1 foot in each squareHop Scotch: 2 feet, L foot, 2 feet, R footTango: L foot crosses, R outside followed by left, R foo...