Search
results for

: 4 player

We found 20 results matching your criteria:
Drills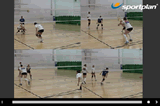 category: 5-Drills
A 4 player dig pass relay over the net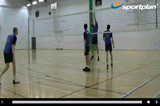 category: 4-Passing-Drills
Start the game by volleying the ball over the net to the player at the back of court. They then overhand pass the ball to the player at the net who...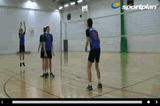 category: 4-Passing-Drills
Start with the ball with one of the outside players who volleys the ball to the middle player they volley it back to the outside player who then volle...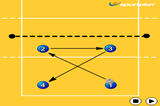 category: 5-Drills
4 Player passing drill, with first time set to each other in routine.
Web Videos
Here is a video that explains a 5-1 (one setter) volleyball system using a 4 player serve receive rotation. It goes through all of the 6 rotations on ...
Professional Beach Volleyball player and Silver medalist, April Ross, shows us the importance of teamwork and dedication in order to become one of the...
Volleyball is Life ! In this video you can see the BEAUTY of Volleyball! Some people are deticated to play the game of Volleyball and give all they ha...
Community Drills
4 Players on each side of the court.They start together at the center of the court.The coach inititiates the play by giving a free ball to one side. T...
Drill Two - Working in two teams each consisting of 3 or 4 players (A and B); Team A starts with ball and passes to a team mate while payers in team ...
Dig Test:The captain (C) stands facing the 4 players (1,2,3,4) who are positoned 2-4 metres away.The caption throws the ball underarm to the torso of ...
DescriptionA 4 player dig pass relay over the net.Coaching PointsFor defensive dig: Knees bent and legs just wider than shoulder width apart. Eyes on ...