Search
results for

: changing direction

We found 51 results matching your criteria:
Drills

category: Video-Techniques
Hockey Drag right to left and change direction back to right Video Techniques Coach's objective : To teach the drag from right to left followed by a ...

category: Video-Techniques
Hockey Changing direction with the ball Video Techniques - Carrying the ball in ... search our library of 1000+ hockey drills; create your own profes...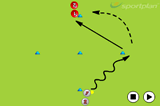 category: Moving-with-the-ball
Hockey Confusion Moving with the ball To improve running with the ball and changing direction players have to run around the cones creating a figure ...

category: Game-related
Hockey switch to avoid congestion Game related When a team changes direction of the ball and the forwards don't come back nothing changes and the sit...
Web Videos
Former college field hockey player and CoachUp coach Anna Giannoni shows how to pull back and change direction. Click here to train with coach Anna: ....
... This is part of HockeyOT's on-ice series of drills that will help you improve your game. Hockey Training That Will Take Your Game to the ...
Watch clips from the Women's Hockey Champions Trophy, taking place in London, Great Britain! The FIH 2016 Women's Hockey Champions Trophy take place ....
Played across 135 local schools, Hockey is one of the most popular sports in Singapore. It requires the speed of an Olympic sprinter, agility and athl...
Sessions
6 drills and games designed to improve your players' on the ball confidence and improve their passing and dribbling decision making skills
Unlocked

Burst out of the blocks with this sprint and agility hockey conditioning session, and add a fitness element to your training today
Unlocked
Use this session to improve your players' first touch and encourage them to spread the ball to use the full width of the pitch!
Unlocked
Community Drills
"Mini-goal needed for drill"The players will start at the cone, post up calling for the ball loudly, then change direction either left or ri...
2 players 1v1 each as a ball. start oposite sides of the diamondone players has to try and catch the other playerwhen other player is caught then...
Players run through cones changing speed and direction
Players are in two groupsDribble around cones and get feet around ball (orange)Clip hit to the next person who continues to dribble (whites)Repeat abo...