Bite size fitness 7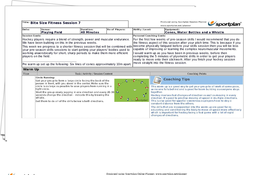 In this plan we turn our attention to the faster side of the game, getting your players rocketing out of the blocks and changing direction at speed.
What's in the session?
After a thorough warm up we get your players to weaving at speed, accelerating out of a gentle jog and then finish with a tough lactic-power session - requiring players to work explosively and improve their tolerance to the build up of lactic acid in their muscles.
Written by a Professional Personal Trainer, specifically for hockey players, this Bitesize session covers everything from warm-up to cool-down, why not incorporate it into your session today?
This session is available as part of an Interactive Coaching Pack, scroll down to learn more