Search
results for

: Tackle Line

We found 19 results matching your criteria:
Web Videos
Watch this USA womens rugby sevens player break her nose and get straight back in the defensive line!
Video from NZRU coaching toolbox website. Pat Lam teaches some up and comers the proper technique to the rugby tackle. More videos: ...
I like to call this the "Chop tackle" because it creates an image of achieving "chop down" to the ground really quickly. See this and more at The Rugb...
Advanced tackle technique to ensure a slow play the ball.
Sessions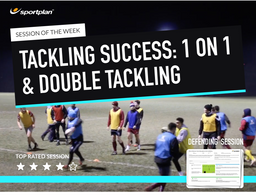 Focus on technique to ensure your players tackle safely and powerfully, as well as looking at the progression from a 1-to-1 'fit' tackle to a positive...
Community Drills
THIS DRILL WILL FOCUS ON AREAS FOR BOTH DEFENDER AND ATTACKER.DEFENDERS CONCENTRATE ON TACKLING AND ATTACKERS ON EVASIVE FOOTWORKON THE FIRST WHISTLE ...
Add a second tackler with or without pad 2m behine first tackler yellow cones are second tackle lineAdd second support player running in a line up the...
Defence Drill By Robbie Fowler5 Red Hats placed 5 meters apart in a loop shape.1 Yellow HatPlayer with a ball at one end of the red hats, will w...
Defence Drill by Robbie fowlerOne player on all (A) hats, that's 4 players in total.One player one Red (D) ( 5 man drill.D passes ball to anyone on an...