Search
results for

: pre season

We found 25 results matching your criteria:
Web Videos
Turn on notifications to receive upcoming videos! ❗️ ❗️More Rugby | Instagram - https://www.instagram.com/bsportv ...
For first look at exclusive news and updates subscribe to our newsletter here: https://www.bathrugby.com/news/sign-up.
Head of Athletic Performance Denis Logan gives us an insight into the first week of Munster Rugby's pre-season training ahead of the 2019/20 season.
A short preview of an upcoming documentary following Cambridge Rugby Club. This film will explore the measures taken by the coaching team to ensure th...
Sessions
Blow away the cobwebs. Use these conditioned games in your pre-season build up to prepare players for contact and refresh their long-distance passing
Unlocked
Legs are everything in rugby, so make sure you put the time in ahead of your first games of the season with this pre-season fitness plan
Unlocked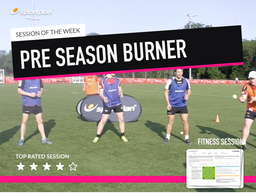 Are you up to it physically yet? Really feel the burn with this session and push your team hard! You will really feel the benefits after!
Unlocked
Whatever level you're coaching at you'll need to have a clear plan for your pre-season schedule.
Unlocked
Community Drills
start with 5 x times hitting the shields, stay allert beacause the coach will place a ball behind one of the shieldboys. he will call turnover. defend...