Search
results for

: pre season

We found 26 results matching your criteria:
Web Videos
We go behind-the-scenes to bring you the action from week one in pre-season training!
BRUGBY MERCH https://teespring.com/stores/brugby ------------------------------------------------------------------ Support on Patreon ...
We go behind-the-scenes as the Premiership Champions Harlequins return to training as preparations begin for the 2021/22 season. #Rugby #Documentary ....
The Waratah Way is an in-depth look into the NSW Waratah's 2020 Super Rugby pre-season. Go behind-the-scenes at NSW Rugby headquarters as the team ...
Sessions
Blow away the cobwebs. Use these conditioned games in your pre-season build up to prepare players for contact and refresh their long-distance passing
Legs are everything in rugby, so make sure you put the time in ahead of your first games of the season with this pre-season fitness plan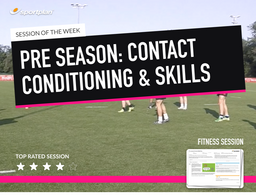 As the start of the season nears, continue to build your players resilience to contact and ensure they?re up to speed with their physical conditioning...
After a long off season period it's important to carefully ease your players back into contact - use this session to get your players tackling again i...
Community Drills
start with 5 x times hitting the shields, stay allert beacause the coach will place a ball behind one of the shieldboys. he will call turnover. defend...