Search
results for

: first training session

We found 22 results matching your criteria:
Drills
10K likes. http://www.sportplan.net/drills/Netball/index.jsp Search through 1000s of drills online,... ... It is always valuable to include condition...

category: Shooting
Netball Killer Shooting Shooting The aim of the game is to score a goal before the ... The first player takes a shot from the top edge of the D if th...
Web Videos
A dynamic netball passing drill you can use to develop passing and movement skills. This drill is all about change of direction and pace. You'll need ...
This netball video guide will show you a drill to work on team movement when atttacking. You can easily involve different numbers of players and rotat...
Sessions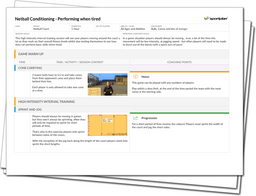 Are your players fighting fit? Test their ability to shoot and pass when they're physically tired!
Smiles guaranteed: 5 fun-filled fitness games and drills for a winning start to the New Year
Bring some fun variety to the court, with 4 week's worth of warm up ideas!
Community Drills
play four corners, this is the drill we played the first training session we had.Set up a 3m x 3m area, with an attacker and a defender inside. A feed...