Search
results for

: passing key stage 3

We found 24 results matching your criteria:
Drills

category: Passing
Netball Chest pass Passing Players in pairs with one ball about 5 metres apart.

category: Warm-ups
Netball Running Drills - 3 part warm up Warm ups Drill 1. ... Jogging and Footwork Warm Up Drill Thumbnail ... Rotating and turning Pass Drill Thumbn...

category: Shooting
Netball Shooting technique Shooting Working on their own each player has a ball and takes it in turn to work on their shooting technique. Stood about...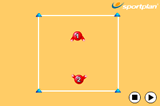 category: Defence
Netball Shadowing Defence Players run in pairs along the length of the court. ... Dominant defending body positioning to deny space Session Thumbnail...
Web Videos
This video demonstrates two game-based activities developing decision making skills to maintain possession against the defence.
Sessions
Three is the magic number! Get your players to make the right decisions when defending - mark, block or intercept?
Unlocked

Develop your player's understanding of how to use their body to dominate and limit the space available to their opponents focusing on a centre pass sc...
Unlocked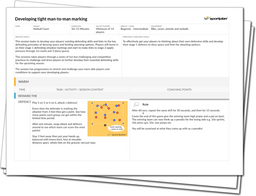 Develop the defensive principles with your team, working on their man-to-man marking to halt the opposition's attack
Unlocked
Make sure your team are tough and ready to battle for every ball with this hard work defending session - covering communication, teamwork and footwork
Unlocked