Search
results for

: lesson plans

We found 25 results matching your criteria:
Web Videos
Video of my lesson plan of basic volleyball skills for Tech in PE.
Volleyball lesson plan, volleyball unit. High school PE, phys. ed., physical education volleyball.
Volleyball passing drills for beginners.
Sessions
Floor defence is the art of defending the ball behind the block, and often requires player to dig or dive to keep the ball alive. Use this session an...
This volleyball session covers the key coaching points for both the underhand and overhand serves to help your players become a serving sensation! It...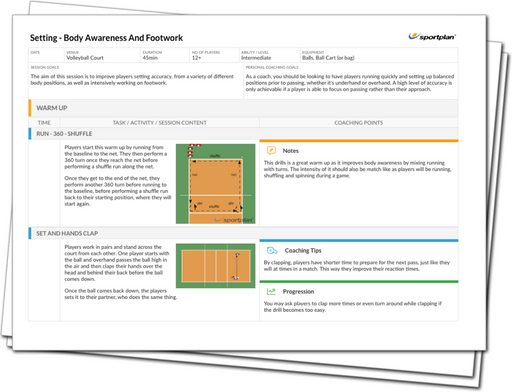 Browse Volleyball Lesson Plans by category. Prev Next. 10 Setting Drills (5) · 4 Passing Drills (5) · 1 Techniques (5) · 8 Block Drills (2) · SMV...
Spiking is an excellent skill to use in volleyball, as it is often where a team will ... it's far from impossible, and that's what this plan aims to ...