Netball Drill Demonstration
Related Plans
Prev
Prev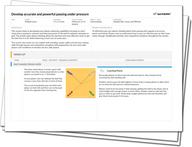 Develop accurate and powerful passing under pressure
Don?t let your team?s passes fall short again with this attacking passing session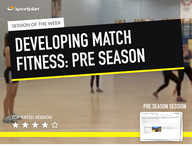 Pre-season Session 2 - Developing Match Fitness
Develop match fitness and rediscover the finer skills to get back up to speed as quick as possible with this fun, engaging pre-season session.
Description
Two lines stand about 5 meters apart with another two lines stood perpendicular so that players are stood in an 'x' formation.
As one player runs out without the ball they receive a pass from directly in front of them.
They must immediately pass the ball to the player on their left and then run to the back of the line opposite their starting line.
Drill tags: cross over, cross-over, fast, hands, warm up