Netball Drill Demonstration
Related Plans
Prev
Prev

Decisive and dominant man to man defence!
Develop your player's defensive skills in order to maximise your team's success.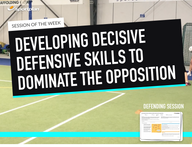 Developing decisive defensive skills to dominant the opposition
Develop your player's basic defensive skills in order to turnover the ball or force attacking errors.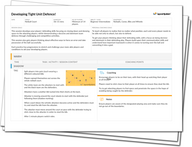 Developing Tight Unit Defence
Develop your team's defending skills with this session, by focusing on closing down the opposition and denying them space
Description
Two feeders stand in middle of the court, either side of the center circle.
The attacking player passes the ball out to the feeder and then runs out, looking for the return pass. The defender must react and look to push the attacker wide and/or intercept the ball.
Coaching points
Defenders always start on the inside of the court.
Defenders should focus on pushing the attacker wide, out to the side line and shadows her to the back of line.
Drill tags: attacking, defence, game, high pass, intercept, reaction, speed