Search
results for

: warm up

We found 51 results matching your criteria:
Drills

category: Passing-and-Receiving
Soccer Warmup Instep Pass Passing and Receiving Players between two cones jogging on the spot. Play a flat pass between the cones to the other play...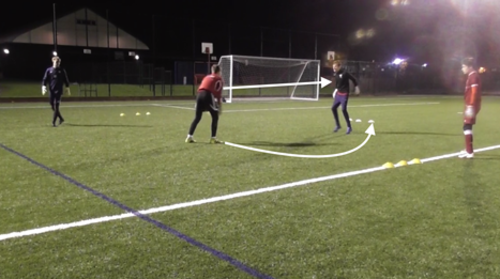 category: Goalkeeping
Soccer Footwork Square Warm up Goalkeeping *AUDIO DESCRIPTION ON* Set up a square with cones on the outside of the square. Should be about 20yds by ...

category: Agility
Soccer Warm Up Grid Agility Split your players into two groups. Half of the group runs around the outside of the square for one minute at 60% pace. A...

category: Warm-Up
Soccer Pac Man Warm Up Objective: Initial pulse raiser to get players focus & physically prepared for the session. Detail: Mark out a 20 x 20 grid wi...
Web Videos
How To Warm Up Before A Soccer / Soccer Game - Download a FREE soccer training course at - ... Learn how to warm ...
Warming up prior to training and playing a match is essential to not only preventing injury, but also for optimizing your performance. In this video I...
Tired of starting games slowly? Use the best soccer warm up tricks, exercises, stretches, drills, and mental hacks to perform better in your next game...
Sessions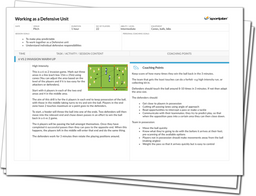 Drum in the defensive roles and responsibilities of your players and make sure they understand what you want from them in order to win the ball back a...
Unlocked
Teach your players to shield the ball from defenders and play with tiki-taka flair using this Spanish-inspired plan.
Unlocked
Move the opposition's defence and practice passing into space with this switching session - working on quick and accurate passes.
Unlocked
Hear the crowd chant 'Ole Ole Ole' as your team pass with confidence and consistency to keep possession and tire their opponents!
Unlocked
Community Drills
Stretches, pick a leader.Agility warm up.
Short pass only 10yards, long pass 15yards. Players receive behind pole. 2 touch, Once under control introduce 2 balls. 2-3 minutes then swap directio...
Coach shouts go and 1 player from each side runs out to the cones and as they reach the cones the coach throghs the ball in verious ways so the two pl...
sideways movement forward - touch toessideways movement backward - high knees