Junior Dribbling - Changing pace and direction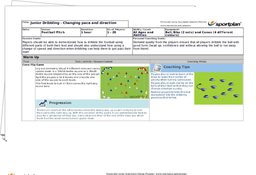 This session gets your players dribbling with confidence, using both feet, keeping the ball close to their body and changing speed and direction!
Not all players will be ambidextrous (able to use both feet) but you should be able to demand certain things from your team:
Don't let the ball run away from you
Keep your head up when you're on the ball
Try to use both feet
Be confident using different parts of your feet
Confidence using your weaker foot will greatly help players when they're next stuck in a tight corner.
What's in the session?
To improve dribbling form and encourage players to keep their heads up whilst on the ball this session starts with a fun Cone Flip warm up game before then progressing onto the serious business of dribbling - to help them master the ball like Messi!