Defensive Balance and Compactness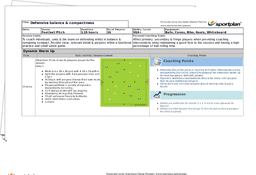 Balance is an all important attribute to have on the football field. The best attackers and defenders always have exceptional balance so develop your defenders ability to stay on their feet and in control of their movements to both slow the play down by not getting beaten and tackling without giving away a foul. Use this session to stay balance and compact to keep out the threat from the opposition.
What's in the Session?
Warm up with an active practice to get the players physically ready and in the mindset of defending with patience and composure. The session then progresses to work the players defensive skills as:
Individuals
Small-units
Team
The technical part of the session develops the defenders understanding of positioning, both in relation to their fellow teammates and the opposition players. The practice will encourage them to stay on their feet and will highlight the importance of their body positioning to channel forwards into certain areas as well as how their body positioning can help them tackle to win the ball back.
Finally, move onto a small-sided, conditioned game to put into practice the understanding of structure, compactness and balance to the defensive side of the game.
Produce defenders capable of making rational decisions in tackles, in their positioning and with fellow teammates by improving their understanding and balance when defending.
This session is available as part of an Interactive Coaching Pack, scroll down to learn more