1v1 Defending: Press, Contain and Deny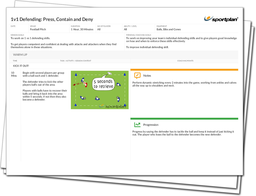 How well can your defenders contain the attacking threat in a 1v1?
Test out how well with this session plan, and get your defenders thinking tactically. To make sure your last line of defence protecting your keeper are confident and able to defend in a 1v1 situation, this session uses challenges and games to improve your players' defending technique.
What's in the Session?
This 90 minute session gets your defenders to take up good positions (sideways on, showing attacker's towards their weaker side) and face down the attacking threat by:
Starting with a Defend and Dribble warm up game
Building on the skill with two Stop the Shot practices
Finishing with a conditioned game with plenty of 1v1s
Use this plan if you want to teach your players to be patient in defence and to contain the attacking threat.
This session is available as part of an Interactive Coaching Pack, scroll down to learn more