Junior Short Passing - Technique and Games Session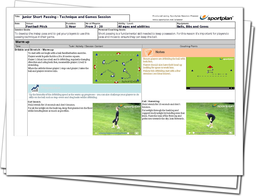 This session is great for squads of all sizes, from 2 players up to 22 players, as we work on your players' in-step passing, first touch and their passing and moving technique.
Short passing is a fundamental skill which will help players to keep possession (the instep pass technique is often used too when placing a shot). For this reason it's important that all your players are able to pass accurately using this technique and then move into space to help their team keep the ball.
What's in the session?
To get your players passing accurately and moving into space we start with an on the ball familiarisation warm up and stretching exercise before then reviewing the technique with a pass through the gate practice. From here on in it's game time - with three small sided games designed to help your players put their passing to the test and practice keeping possession.