Large Group Possession Games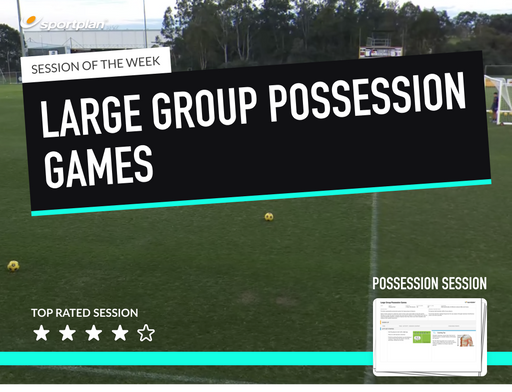 This session is designed to help you survive when all your players turn up to training and you need some large group games to get everyone working!
So that all players are involved, even if you're coaching groups larger than 30 players, we've got a selection of high intensity games which will improve how your players work through the 4 phases of play.
The 4 phases of play:
| | |
| --- | --- |
| 1. On the ball | 2. Losing the ball |
| 3. Lost the ball | 4. Winning back the ball |
What's in the session?
This session has three large group games to be played on both half and full pitch, as well as a simple team warm up and cool down. Depending on numbers you can modify these games to suit your requirements.
During the session it's useful for coach to have some spare balls to keep the games flowing. It is also the type of session you may need to repeat 3-4 times before you start to reap the benefits properly, as players improve how they check over their shoulders and improve their spatial awareness.