Blocking with Feet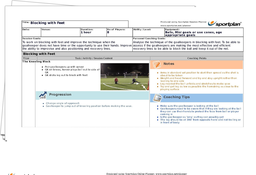 What is the session about?
This session works on blocking with feet. We start by isolating the technique from a static position to more dynamic drills. The drills are progressive, starting with mini goal then progressing into age appropriate goals and replicating a passage of play where this technique is likely to be used.
How will this benefit a coach and their players?
This is an introduction to blocking with feet. The drills in this session will allow you to work with varying numbers of goalkeepers and incorporate them into the practice. For smaller groups of goalkeepers just replace the servers with outfield players. Goalkeepers will benefit from all of the drills but also some of them can be used as a warm up activity for goalkeepers pre-match. It also introduces goalkeeper to a technique used by many premier league goalkeepers. In some of the earlier drills the coach can check positioning of the goalkeeper in relation to the ball.
What key skills will be worked on in this session?
The session works on key skills and techniques, such as movement prior to the block. How to make yourself as big as possible when blocking a shot. As the drills are progressive, the session builds confidence and the correct hand and foot position can be looked at. It is as much about positioning and improvisation as it is about technique. As the goalkeeper will be out of position at some of the later drills it helps a goalkeeper improve their geography in relation to the goal.
Is there a specific age group for this session to be aimed at? If so, what age group and why?
As you can see that the sessions will work with any age group and ability. More elite goalkeepers will benefit and enjoy all aspects of the drills. The first drills can be incorporated into a warm up.
When doing some of the drills with younger goalkeepers you may wish to limit the rotations so they do not get confused, when they have to move to their next station. As goalkeepers show improvement or are already at a higher level you can increase the intensity eg. Number of repetitions or the power of shots.
Can you name an exercise which is particularly key to this session
Goalkeeper mayhem is something that all of the goalkeepers look forward to and enjoy. The last drill really consolidates the prior coaching and learning. This is where you can see how the goalkeeper reacts when out of position and analyse movement patterns that are most efficient to cover as much of the goal as possible.