Search
results for

: Dynamic

We found 25 results matching your criteria:
Drills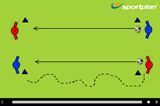 category: Dribbling
Working with one ball between two players start on opposite cones. The first player dribbles the ball to the end cone whilst the other player jogs ...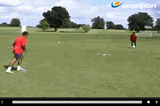 category: 1-v-1-skills
Players run towards each other, and then sidestep around each other at the last moment.
Ensure players communicate and decide on a direction...
Web Videos
Passing and Receiving drill for soccer/football players to improve the accuracy and passing technique.
Sessions

A high % possession is worth nothing if your players aren't able to score. Make the most of all opportunities by improving their shooting skills
Unlocked
Community Drills
Warm upDynamic stretchs-lunge,open gate, close gate etcthe participants will be working along the arrows completing the stretches.
This exercise is a progression of Phase One and puts players into a more dynamic setting.Use the same setup as before.In this phase of the exercise pl...
Warm Up - Passing Passing ANumber 3 starts with the ball and dribbles to number 6. 6 receives the ball from 3 and then half turns and dribbles to numb...
Movement & DynamicsPassing DynamicsFitness with a ball