Retaining Possession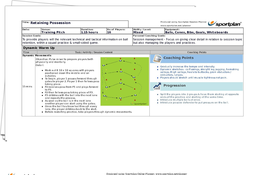 It's an old cliche about 'letting the ball do the work', but despite that it is the most effective way to grind down your opponents! Develop your team into one that takes control of every game by purely keeping the ball.
What's in the Session?
The session kicks off with a dynamic warm-up that allows the players to raise their heart rate plus giving them the opportunity to get their touch on point before the main body of the session. The warm-up is targeted towards the main aim of the session and gets your players straight into the thought process of retaining possession. As the session progresses, learn the four D's that are fail proof in building a team able to control the game throughout. The small-sided game develops the players understanding between one another plus puts pressure on their first touch to open up the game and to create options.
With a team that can retain possession of the ball, no opposition will come close to threatening your goal. Develop this style of play and see your performances flourish.
This session is available as part of an Interactive Coaching Pack, scroll down to learn more