Passing, Receiving & Combining to Attack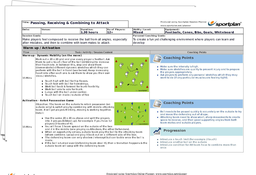 It's important that you instill and confidence in your players ability to pass and receive the ball under pressure and from different angles. Sometimes players can hide and not lead for the ball if they're under pressure, whereas this session looks at developing their ability and mindset to want the ball and set up attacks through simple passes and receives.
What's in the Session?
Begin the session by making sure your players are ready for the session with a dynamic warm-up to ensure that physically and mentally, they are tuned to make effective passes and to receive the ball to turn and look for the next pass. The next phase of the session ensures players are prepared with a 4v4 possession game which is designed to really test their passing, their touch and vision for the next pass. The technical part of the session looks to work on the skills the players showed in the possession game with a skills practice. The passing and receiving theme continues, however it adds another dimension, making the player think ahead of the receive as to what to do with the ball next. The small-sided game at the end of the session ties all of this together, plus is a bit different which makes the end of the session a bit more exciting. There is no doubt that your players will leave the pitch with a smile on their face after this one!
Set up attacks by encouraging your players to not be afraid of making a mistake and lead for the ball, even when they have a bit of pressure on them.
This session is available as part of an Interactive Coaching Pack, scroll down to learn more