Shooting: Crossing and Finishing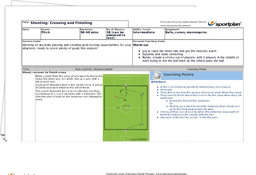 Putting the ball in the net is what wins you the game. It?s all very well getting the ball up to the forwards, but if they?re not putting the ball in the goal, your efforts are wasted. To help them, the players delivering the service from out wide need to have their technique nailed down to be able to provide the perfect deliveries to give the strikers the best chance of finishing.
What?s in the session?
The first practice is a long drill with a few progressions available. Players have the opportunity to take on a defender 1 vs 1 towards the goal before recovering for a second chance at a shot from a winger. There are many variables that it simulates a game, whilst providing the coach with plenty of chances to give feedback.
In the next drill, players have 3 opportunities to score from a run in and from two different angles. Dynamic movement becomes important, to make it more difficult to defend.
This session is available as part of an Interactive Coaching Pack, scroll down to learn more