Pressing in the Defending Half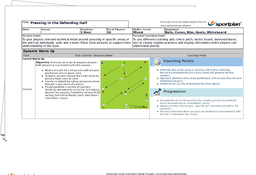 It's a common saying in football, to win the the ball back within 6 seconds. The great Barcelona team lived by that theory therefore their pressing was almost just as impressive as how they attacked with the ball. Create a culture in your team that aims to press so well that you can win the ball back as soon as possible.
What's in the Session?
Begin the session by warming up the team with dynamic movements to engage their minds and bodies before a session which will test them with both aspects. The technical part of the session starts with a a 3 v 3 pressing drill which will build the defenders confidence to press as a unit, allowing them to understand the movements of their teammates and how it affects the opposition. Finally, finish with a conditioned game that encourages the players to put into practice what they learnt in their smaller units as part of a bigger team setup in 8 v 8 on a smaller pitch.
Give your team a target of how long to win the ball back and then go out to make them achieve it! It could well become the most rewarding part of your game.
This session is available as part of an Interactive Coaching Pack, scroll down to learn more