Search
results for

: defending

We found 231 results matching your criteria:
Web Videos
Different exercises for Handball training to improve your defence. You can see simple 1 on 1 training up to complex exercise with the look on defence....
This guide shows you How To Be a Defender In Handball Watch This and Other Related films here: ... ...
... or ... Surprisingly Hsv won this year handball champions league trophy. They played two really ...
Sessions
Get your players working hard on their zonal defence, picking up and passing on the opposition's attackers to make sure no player goes unmarked!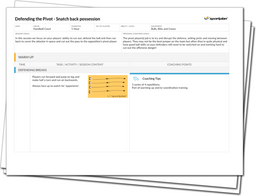 Put pressure on the opposition's pivot player with this interception skills session - teach your defence to run out, cut out the pass and get back in ...
Make sure your defenders are confident when they find themselves in a 1v1 showdown - Try this shut-out skills session today!
Learn how to maximise the effects of crossing in the game, both in your own half and going forward!
Community Drills
Working in the same groups of 8. Nominate 2 defenders to begin with. The other 6, get into 2 groups of 3. The 3 attackers will line themselves up one ...