Draw in Defenders for the Break Through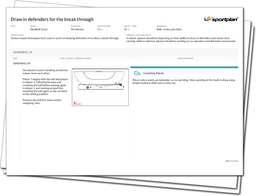 The ability to draw in defenders is a very hard skill and takes a lot of practice, but once it is achieved, you can be sure it will bring goals!
This session teaches your players how to draw defenders in to allow a team-mate to break through.
Attacking isn't the only thing focused on in this plan however, as we also look at how defenders can work effectively to not be drawn in, and what their team-mates can do when this does happen.
A great session for the whole team, and one that you will be seeing the benefit of for some time to come!