Defending: Fast Feet, Hustle and Pressure!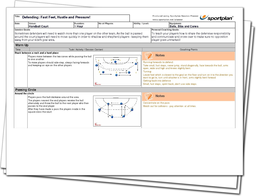 This session aims to give your defenders some hustle - working on their footwork so that they can put the opposition's attackers under pressure as they shadow, shepherd and keep the opposition away from your side's goal area!
Sometimes defenders will need to watch more than one player at once on the other team. As the ball is passed around the court players will need to move quickly, side-stepping and shuffling in order to stick with their man (or men)! That's where this session comes into play.
What's in the Session?
To get your players shifting speedily around the court we start with a simple side-stepping and passing drill to get players on the ball before then progressing onto a series of defensive third exercises. In these exercise your team will experiment with different methods of sticking with their player and meeting the ball to put the attackers under pressure.