Netball Drill Demonstration
Related Plans
Prev
Prev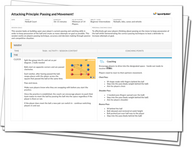 Attacking Principle: Passing and Movement!
Improve your team's attack by working on their passing and movement with this attacking session

Attacking Principle: Introducing possession on the move
Develop your players' passing and catching skills with this session, as you look to maintain possession on the move!
Attacking Principle - Dynamic movement to maintain possession of the ball
Don't underestimate doing the basics effectively. Nailing your passing and receiving will be sure to open up defences.
Description
4 cones are placed as shown in diagram and players work in pairs with one ball.
The worker (red) runs to any cone, changes direction and receives ball from feeder back in the centre.
This practice works on a quick change of direction.
Coaching points
Encourage your players to:
Drive towards each cone
Signal for the ball
Land on their outside foot to receive the ball
Feed early so worker receives at stretch and speed in the centre. Also ensure the worker faces the ball at all times and that only direct passes are used throughout the practice.