Search
results for

: serve and volley

We found 30 results matching your criteria:
Drills

category: Serve-and-Return
Tennis Serve and Volley Serve and Return Player 1 serves a 1st Serve and follows it in to hit a volley. If returner is finding it hard then serve a 2...

category: Rally-Drills
Tennis Progression of Serve and Volley Rally Drills Description same as t30031 however if server can make 1st volley a winner they score 2 extra poin...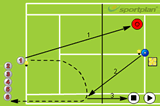 category: Serve-and-Return
Tennis Serve and Volley Serve and Return -Player serves diagonally to returner / feeder who hits cross court. -Server moves forward and volleys back ...

category: Serve-and-Return
Tennis Serve and Volley - Low returns Serve and Return Player A serves softly from between the service line and the base line and player B has to ret...
Web Videos
... How to serve and volley in tennis - free tennis lessons online In this video Top Tennis Training coaches ...
A fan requested this video and I thought it was a great idea, so I decided to make it. I hope you'll enjoy it, and as always, don't forget to share, l...
... Believe it or not serve and volley is STILL a great tactic to use in your singles tennis matches! In this video I'll be sharing my top ...
Taylor demonstrates the best techniques for serving and volleying as seen on the Tennis Channel.
Sessions
Work on the tactical and technical areas of the doubles game, making your players aware of the different priorities needed than in a singles match!
Unlocked
This session will develop both your players' ability to play, and understanding of when, to hit the down the line shot using groundstrokes and volleys...
Unlocked
Introduce another attacking option into your players' game by boosting their volleying skills and increase their dominance of the net so they win more...
Unlocked
Community Drills
In pairs, one student is the server and the other is the receiver. The server is to perform a serve, htting the ball in the court legally, and th...