All Rounder Fitness part 2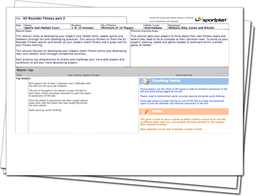 This session continues from last week's All Rounder Fitness session, as you pick up from where you left off in last week's session and continue to improving your team's all round fitness.
Work on areas such as speed and footwork, as well as other key areas of fitness that your players need on court, to help them perform at their optimum level for the full 60 minutes. Whilst developing your team's match fitness, we also look at your player's core athletic skills to get them fully prepared, which also gets your team thinking about their individual fitness levels and where they need to be at to succeed.
Get to work on your team's fitness and watch them win on the court!