Netball Drill Demonstration
Related Plans
Prev
Prev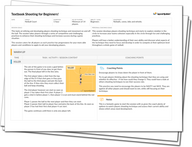 Textbook Shooting for Beginners
Never miss a chance again with this shooting technique session!

Developing shooting movement and technique
Develop your team?s shooting skills, by improving their technique and movement, with this attacking session!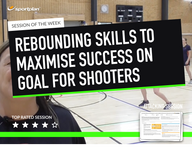 Developing rebounding skills to maximise success on goal for the shooters
Develop your team's rebounding ability in order to secure possession and provide more opportunities at goal.
Description
White player 1 throws to Blue player 1, then runs quickly into circle and receives ball back.


White player 1 then shoots, collects the ball, and passes to Red player 1, before joining the back of the Red player's line.


Red player 1 does the same from the other side and the drill continues.
Coaching points
Look for players to be moving as soon as they pass the ball to blue player 1, and shots should be well placed.
This is a drill which all players can take part in, not just your attacking players, as everyone loves shooting.
Progression
The game can be progressed by adding a defender into the game, making the attacker move and find space to receive the second pass before shooting under pressure.