Search
results for

: tackling confidence

We found 33 results matching your criteria:
Drills
Rugby Introduction To Contact Rugby Manual Rugby Coaching Manuals Youth ... Spacial awareness; Running technique; Tackle technique and confidence .....
category: Tackling
Rugby Presenting The Ball Tackling Good for younger rugby players to learn how to go into contact and set up the ball at pace, you can use it as a co...

category: Sevens
Rugby Tackle Challenge Sevens The exercise stand clockwise, with the first player going from the bottom left cone. The defender must tackle that play...

category: Tackling
Rugby Tackling in grid (game). Tackling Working in a grid. Start both players half way in between the cones of one side of the grid. When commanded, ...
Web Videos
Sup! Welcome to my YouTube channel. I hope you're having a great day! Thanks so much for watching! *** If you enjoy my videos then please consider ...
A tackling/touch game for yourn players to help develop confidence and safet technique in the tackle. Who can tackle and how is based on size and weig...
Jacques Burger shows us what techniques made him a premiership rugby record breaking tackler. Subscribe: ... Twitter: ...
Have you ever wanted to get good at rugby. Well look no further than this educational resource on How To Do A Tackle. Follow Videojug's professional e...
Sessions
This session looks at refreshing tackling technique and improving your players' confidence in the tackle.
Can your players tackle and jackal? Use this session to introduce your players to the jackal and improve their technique in 1v1 and game situations

Help your players get over their fears and watch them gain confidence in contact!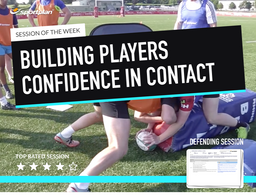 Build your player's confidence in contact with this session, as you work on their contact skills in a safe and competitive environment
Community Drills
Tackler in the middle tackles any of the 4 attacker who try to evade them within the box. No fending. Drill is about giving tackling confidence to pla...