Rugby Drill Demonstration
Related Plans
Prev
Prev

Confidence in Contact: part 1
Help your players get over their fears and watch them gain confidence in contact!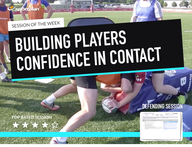 Building player's confidence in contact
Build your player's confidence in contact with this session, as you work on their contact skills in a safe and competitive environment
Description
Simple game for teaching tackling when on your knees.
Starting with initially two tacklers and the rest as attackers, players must try to go from one side to the other with a ball in their hands without being tackled.
If a player is tackled they must throw their ball out of the area and become a tackler in the next round of the game.
Coaching points
Progression:
With more confident players you can get your players to repeat this game standing up at walking pace.