Search
results for

: free

We found 39 results matching your criteria:
Drills
Created using our animator and drill sketching tools, and video hosting services there are over 1000 free drills, exercises and videos. Community Rug...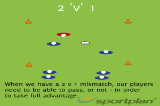 category: Passing
This is a simple 2 v 1.
The two players have to get past the one defender without being touched, that's it.
The defender wi...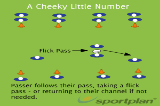 category: Passing
Give each training area one ball and tell the players the following......
Let's just get the ball moving down the line. Give the playe...
Sessions
Improve how your team exploit mis-matches in the opposition's defence to get them creating more try-scoring opportunities with this attacking skills s...
Think quickly and get past the opposition, with this attacking skills session!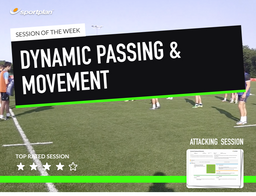 Improve your player's confidence in a pressure-free environment, with this passing and moving session!

Improve your players decision making and passing ability and timing and attack proactively with pace and decisiveness to cut through defences at will.
Community Drills
Hit and go to ground, Pop to support.Straight over. Stay on ground untill there it is free to go. and back in line/support.
2 V 2 Tackle & Ruck support drillCreate a 6m x 8m grid.Red player with the ball is tackled inside the grid by the Blue defender at the opposite si...
Players must rund with ball in two hands and evade capture.Two catchers catch with two handed "tag"Once Caught players must place ball at th...
1. Ruck verd/aanv.Twee gelijke groepen.Reageer of de ruck aanvallend of verdedigend is.- Aanvallend 4 man in. Rest voor pick and go- Verdedigend 2 man...