Front Foot Attack - Improving Decision Making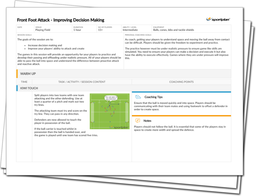 This conditioned games session provides an opportunity for your players to practice and develop their passing and offloading under realistic pressure. All of your players should be able to pass the ball into space and understand the difference between proactive attack and reactive attack.
Benefits of this session:
Improved decision making under pressure
Developed ability to attack and create
As coach, getting your players to understand space and moving the ball away from contact can be difficult. I have seen players panic when they are designated as the ball carrier and hesitation is the biggest factor in losing possession.
For this reason your players should be given the freedom to experiment and practice under match pressure to ensure their game skills are improving.
This session is available as part of an Interactive Coaching Pack, scroll down to learn more