Search
results for

: duel

We found 24 results matching your criteria:
Drills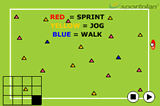 category: Agility-Running-Skills
Individually
Random cones of different colours
Each colour represents a different running speed:walk, jog, sprint.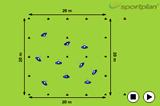 category: Tag-Rugby
Make one large 20m x 20m grid.
Players work individually and must run in any direction in the grid, trying to avoid contact by running into ...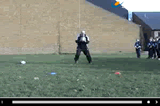 category: Passing
Carry the ball in a high position and try to engage the defender.
Make sure there is lots of foot work and active ball movement all the time...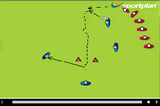 category: Passing
Carry the ball in a high position and try to engage the defender.
When players reach the cones at the end they will have to pass to the co...
Web Videos
Atelier du mois, acte 2 ! Après l'Attitude au contact, nous vous proposons d'étudier la notion de Duel. Avec l'évolution du rugby, ses défenses qui se...
Mario & Sonic at the Rio 2016 Olympic Games is an upcoming sports title for the Wii U, which is the fifth installment on the Mario & Sonic series, alo...
Ce petit exercice permet de sortir du frontal et d'essayer d'empêcher son vis à vis de passer, puis aller percuter. Ce genre de skills sont intéressan...
6-part ESPN Classic looking at arguably the greatest rugby duel, the All Blacks v Springboks.
Community Drills
Par 2 : PB : Tenir debout lors du contact et continuer à avancer ET/OU passage par le sol avec longue libération Soutiens :Si debout, ar...
- 6 vs 6 avec 3 avants et 3 trois-quarts dans chaque épuipe - Jeu total- Les avants doivent faire points de fixation avant de marquer - Le p...
duelo vs bolsa de tackle + 3 vs 3 ataque vs defensa
1 atacante (rojo) recibe de su compañero y se jeuga un duelo contra 1 def. c/escudo (azul). si el def. hace bien su trabajo, el atacante, solo podra e...