Search
results for

: web

We found 27 results matching your criteria:
Web Videos
Lawrence explains to us what to do before taking a penalty stroke and Dennis explains what to do when you defend one. Free subscribing to this channel...
"Spider Web" Colgate Field Hockey.
Sessions

Continue the passing web by developing the right technique to make connections by delivering an accurate, firm pass. Learn how to disguise the pass to...
Scanning whilst on the ball is vital to making strong connections. Part of the Passing Web, players will soon be carrying to space, scanning to spot t...

Pre-scan to create time for yourself on the ball and to spot defence splitting passes. Create players who are always seeing the game two steps ahead w...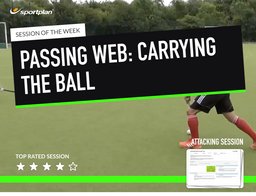 Carry the ball in the right position to be able to pass in all directions or to eliminate either way. Develop players technique and decision making on...
Community Drills
like bull dog... except the spider can only move sideways along 'the web' - or in line with cones when players are tackled by spider, they j...
"Any hockey goalkeeper who says they've never closed their eyes for a second and thought, 'please don't hit me' is lying. There are definitely th...
Blue player starts by passing ball to Red player.Red player must push the ball or hit at medium strength the ball between the cones.Blue player must t...