Search
results for

: tests

We found 18 results matching your criteria:
Web Videos
Hockey Zone want you to give these tests a go and see how you compare. Send us your results. Hockeyzone.org.au for contact details. Look out for the o...
The Canadian Women's National Field Hockey Team was at the Richmond Olympic Oval for fitness testing before their winter break. Testing included a 40-...
The new Adidas Carbonbraid stick - Fieldhockey - Will Farrar Age 15.
Sessions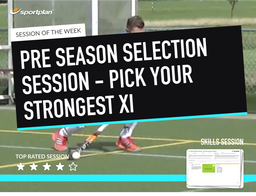 Run your own squad selection with confidence with this week's session, developed for squads of all sizes - from 6 to 60 players!
Community Drills
- 2-3 Games going on (max Participation)- Tests passing skills under pressure - Builds Teamwork