Pre-Season Selection Session - Pick your strongest starting XI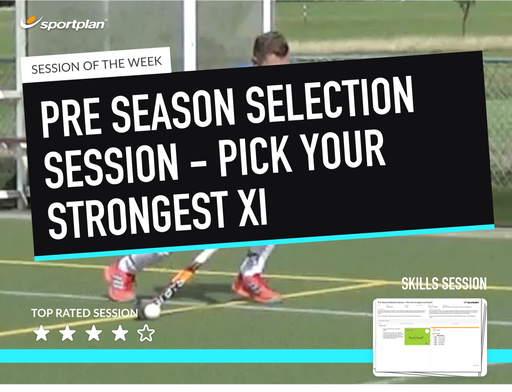 This tried and tested session provides you with clear cut parameters for deciding who should be in your first team and allows you to keep very large groups of players active with a series of tests which challenge your players' basic skills, fitness, agility and some tactical thinking - ideal if you're deciding on who's going to be in your first, second and maybe even third team!
Players will be put through their paces, as you test their sprint speed, distance running and those all important stick skills - getting players to dribble at speed and through a cone slalom!
How to use this session:
There are two ways you can use this session, you can either let your players work their way through the exercises, keeping mental notes on who has performed well or you might like to be more scientific about the process - making notes and scoring times to find out which players are going to be able to cut the mustard at the top level!
Free Sticker Template:
Print off your blank hockey stick stickers here. Simply cut 'em out and tape them to your players' sticks to keep notes on your players' times and performances during this session!