Search
results for

: Skill%20Training

We found 23 results matching your criteria:
Drills
category: Skill-Circuit
Player runs up and down the slalom.

category: Defending-Skills
Defender passes the ball. Attackers go 1 on 1 and try to penetrate the circle. Defenders priority is to stop the player getting through gate 1, then g...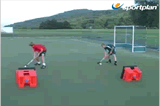 category: Rebound-Blocks
1 player 1 board each.
Reboun board can be turned to rebound the ball back high or low.(in the video the player on the left is receiving reb...

category: Skill-Circuit
A great one for players to practice on their own and to develop shooting on the run. In this drill the player has to hit the ball into the goal, colle...
Web Videos
Duke's Pam Bustin presents the fundamental skills of field hockey and then challenges those skills in many different ways. The "1v1 Defensive Techniqu...
Hockey drills including top d hits, v-drags, reverse hits and 1 on 1's.
Hello! Here are some drills for field hockey players to enhance their receiving skills, and make space. I hope you find these helpful!
2011 Futures Camp Darwin. Goal-Shooting skills coached by Trini Powell.