Search
results for

: agility

We found 39 results matching your criteria:
Drill Categories
Good goal keeping is the ability to fearlessly stop the other team scoring through your goal keeper's agility and technique. These goal keeping videos...
Web Videos
Speed and Agility Drills are not only good for improving your performance and power, they are good for technical practice for reducing injuries to ank...
After getting a lot of questions about how to get fit for hockey i decided to make a video of 4 running exercises. You can use these to get fit for th...
Field Hockey Drill | Agility. For more tips: https://hockeyperformanceacademy.com Former International Player & Performance Coach Lauren Penny explain...
Best Exercise To Improve Speed & Agility in Field Hockey: https://hockeyperformanceacademy.com In this video Performance Coach Lauren Penny shares a ....
Sessions
Change your players' running pattern to get them tying the opposition's defence in knots - perfect session to work on your team's attacks!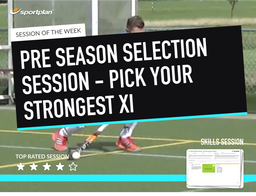 As the season beckons, make sure you?re fully aware of your strongest XI by putting them through their paces with numerous tests to really see who you...
In this fourth and final fitness plan so we cover all the bases - working on cardio, strength, speed and agility - getting your players ready for the ...
Finale to Pre-season Conditioning Training - Keep the energy levels high and build up your players? tolerance to lactic acid, ready to endure the new ...
Community Drills
Drills that focus on enhancing:- Motor skills- Balance- Hand-eye coordination- Speed
A simple yet effective exercise for dribbling posture, agility, and peripheral vision. Players dribble in a zig-zag (ball and feet around the cones), ...
ball on top of each of four cones. One at a time pick up ball, sprint to centre, put ball down, sprint to next cone. Repeat untill all balls in middle...