Providing Options around the Circle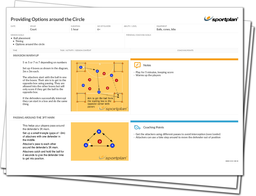 Providing options around the circle is most important for the Wing Attack and Centre players who can't move into the circle, but need to get into a good position for passing to the GS/GA.
Passing warm up with the aim to get to an opposite box, and attackers and defenders changing based on possession. Then attackers work on passing around the defenders 3ft mark by varying passes and stepping out. The next 4 practices are all focused on players making themselves available on the circle edge, gradually increasing the numbers of players.
Important concepts:
Decision making
Shifting defender's body weight
Using different passes
Whilst the attackers are looking to provide options around the circle then defenders are looking to work together to shut down these options. Therefore, one important aspect is for them to know when to stay marking their player, when another defender is shut out and they should go for the intercept.