Player Roles and Responsibilities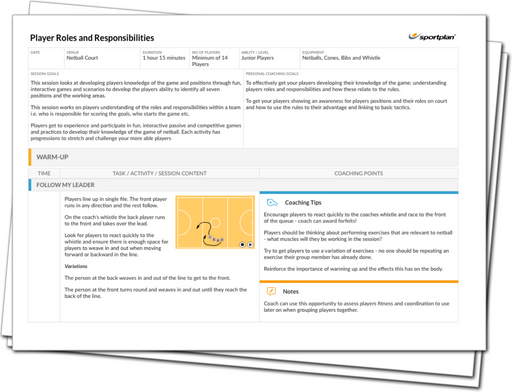 Develop your team?s knowledge of the game with a number of fun, interactive games and scenarios, in this session! Perfect for the beginners on your team - it can also be used for the more experienced members - go through the different roles and responsibilities required from each position on the Netball court. Regardless of where each of your players play, make sure they are all fully aware of their responsibilities and their teammates!
By learning the basic roles and responsibilities, you can develop your player?s knowledge, so they can start to also think tactically. Get them thinking about how they can use the rules to their advantage and add to the basic tactics, giving your team the edge against the opposition.
They say that you never stop learning so make sure that your team don?t stop learning the roles on a Netball court with this session!