Reverse Pivot For Beginners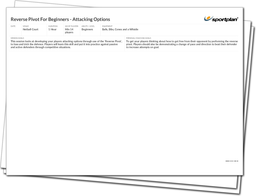 Unlike the roll the reverse pivot is a spinning manoeuvre which sees players swivel on the foot nearest the opposing player to trick their marker and create space to receive the pass. It's ideal for opening up space on court to receive the pass.
What's in the Session?
We start with a simple movement practice to get players driving to meet the ball and then gradually progress the skills, teaching the technical points of the reverse pivot in isolation before putting it into a game situation. We then finish this session with a conditioned game that rewards players for using this skill in a match scenario.